Stimio and WIREPAS announce a partnership to deploy massive scale networking of IoT devices within the railway industry.
Nantes, France, April 8th, 2021 – Stimio, a company specialized in the supply of connected IoT solutions for Railway (IIoT) is partnering with Finnish-tech company Wirepas. Wirepas' Mesh Technology enables wireless IoT networking at massive scale.
Stimio offers remote monitoring IoT solutions for railway companies to optimise operations, enable condition-based & predictive maintenance, reduce safety risks and increase service availability for rolling stock and infrastructure.
Wirepas Mesh provides a scalable and cost-effective solution to connect and localize sensors.With a unique low power mesh operating technology, the solution allows the creation of fully battery-operated networks with years of battery lifetime. Associated with Stimio's IoT edge software-driven sensor portfolio and cloud platform, the complete solution overcome wireless connectivity issues when deploying numbers of IoT devices in a single moving train. It allows device-to-device communication and remote control of connected sensors while saving battery consumption. As more and more use cases are aimed to be deployed in a single rolling stock, Wirepas Mesh technology provides great outcomes for data collection and transmission
"We are pleased to welcome Wirepas Mesh as a new network solution provider. Their mesh network allows us to answer the increasing demand for supporting more and more agile, efficient and power friendly architectures. Combined with embedded machine learning algorithms, it creates another major breakthrough for the railway industry both in term of autonomy and scalability." David Dorval, CEO at STIMIO.
"We are very happy to welcome Stimio to the Wirepas's ecosystem. Stimio offers a a wide range of solutions designed in a modular way, evolutive by nature, friendly to use and easy to deploy on the field. They have great technological expertise which combines mechanical and software engineering, wireless telecommunications, and data analysis. Stimio will be a strong partner to help predict failures, analyze abnormal behavior, and give insights to understand root causes and solve the issues." Jani Vehkalahti, SVP of Sales at Wirepas.

About Stimio
Stimio is acompany specializied in the supply of connected IoT solutions for industry (IIoT). Solutions include data collection, edge processing, transport, and restitution, as well as a visualization and predictive maintenance Saas platform. With its unique and certified solutions for the railway industry, Stimio ensures an optimized and reliable approach from the field to the cloud. Founded in 2014, the company is headquatered in Nantes, France and has office in Germany.
About Wirepas
Wirepas is an international technology company focused on IoT connectivity software development. Wirepas offer to its clients a development environment, which ensures the flow of data between devices and backend reliably. Wirepas Mesh enables wireless IoT networking at massive scale. It is a de-centralized IoT network protocol that can be used to connect, locate and identify lights, sensors, beacons, assets, machines and meters in cities, buildings, industry, logistics and energy – with unprecedented scale, density, flexibility and reliability. Wirepas has its headquarters in Tampere, Finland and offices in Australia, France, Germany, India, South Korea, the UK and the United States.
Let's talk about your concerns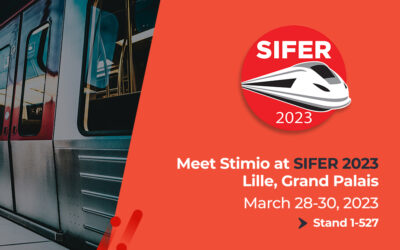 February, 6th 2023Stimio to exhibit at SIFER 2023We are exhbiting during the new edition of SIFER which will be held from 28 to 30 March 2023 in Lille, Grand Palais. Meet us on stand 1-527 to discuss your projects: assets real-time and remote condition monitoring,...