The large majority of rail rolling stock, trains, tramways and subways use sand to increase wheel-rail adhesion for traction and braking. Some conditions significantly decrease vehicle adhesion, such as in the fall, when the presence of plant residues and high humidity make rails 'greasy.'
In this context, using 'sandboxes' to add sand between wheels and rails allows to increase the coefficient of friction and therefore to mitigate adhesion deficiencies.
Main Consequences: An Immobilised Fleet and Degradation of the Service
As a security device, sandboxes and their reservoirs must always be in operational condition. There are therefore regularly filled with calibrated, dry sand. Storage silos make it possible to supply an entire distribution network.
Unfortunately, sand levels in silos are not monitored in real time. Moreover, consumption via the distribution and filling network is also inaccurate. Without monitoring, in the event of an empty silo, it is impossible to fill rolling stock sandboxes.
As a result
The fleet is immobilised;
The service is degraded;
Penalties may apply.
Deputy Technical Director – Transdev Ireland


Stimio provides us with a complete end-to-end solution thanks to its expertise in the entire chain of skills, from hardware to the cloud platform, including telecommunications. It is a real advantage to have only one solution provider for this type of project.

The digitalisation of sand level measurement and prediction is only the first step. We intend to rely on Stimio to take the digitalisation of our railway maintenance further.

Monitoring and Prediction of Sand Levels as a Major Concern
To make up for this lack of real-time monitoring, Stimio offers an end-to-end IoT solution allowing to collect data on sand levels, send it and display it on a dashboard as a part of Oxygen Asset Management, along with a notification and business alerts system.
Our prediction tool allows to predict when an excessively low level will be reached. Our clients' teams are therefore alerted upstream, enabling optimal flow and order management.
At the top of each silo, a radar sensor measures the sand level and sends it via a 4 ‑20 mA uplink to our IoT Railnode sensor located at the base of the silo. Sand level measurements are taken at the frequency desired by the client.
The data collected are sent over the cellular network to our Oxygen Asset Management data processing and display platform.
An efficient supervision platform to follow and predict

The following is a detailed breakdown of the functionalities offered by our sand silo monitoring solution:
Displays the filling level of each silo, from 0% to 100%, in intervals of 10%.
Ability to receive an SMS or email alert when the filling level drops below a configurable threshold.
Ability to consult the filling level of each silo on a smartphone.
Ability to consult the global consumption statistics for each silo.
Last of all, ability to predict the date on which the configurable threshold will be reached.

This solution comes with multiple advantages:
Decreased maintenance costs
Increased service availability by preventing operating losses
Anticipation of resupply orders
Monitoring of the quantities delivered
Consumption statistics to identify overconsumption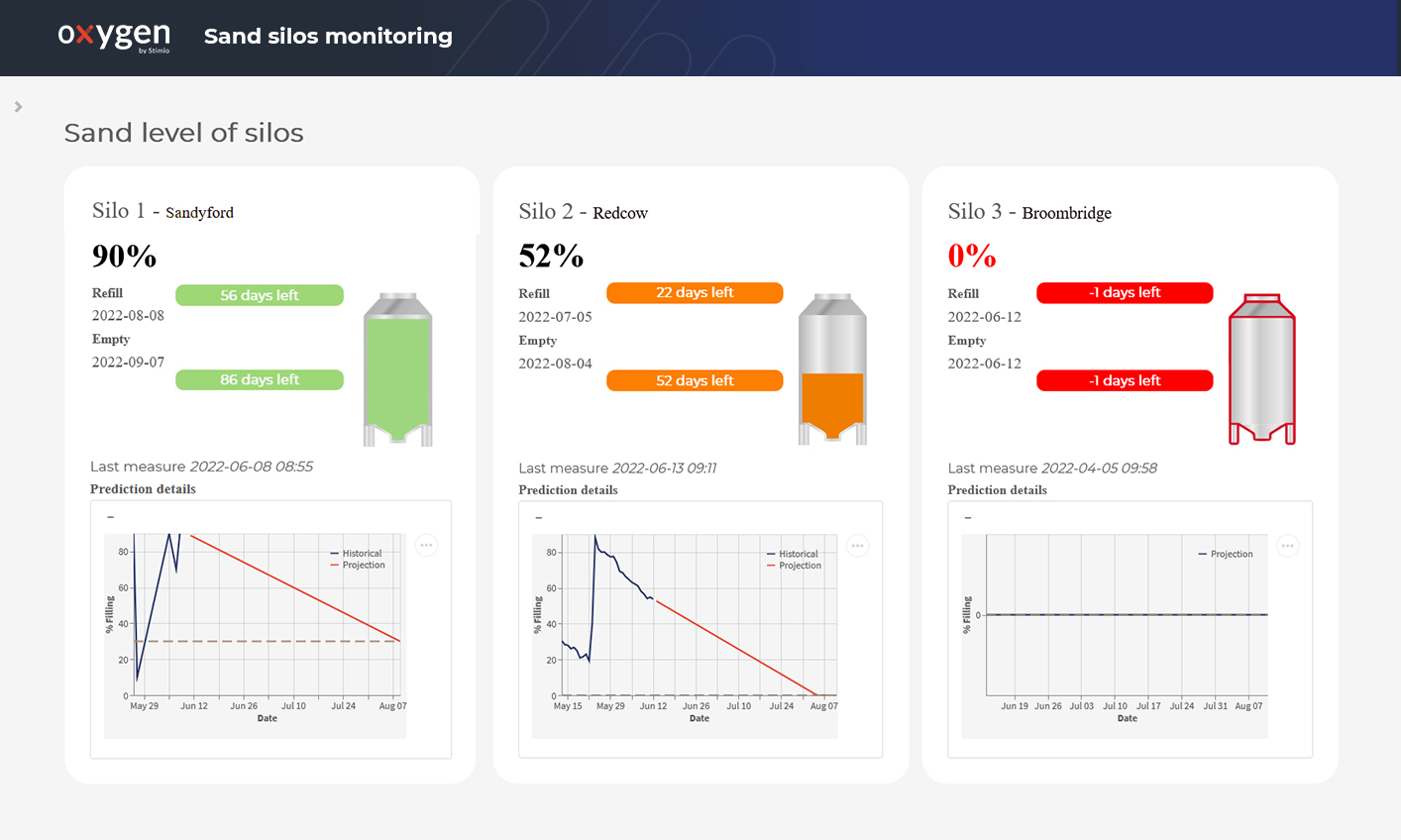 A complete range of connected devices for your infrastructures
Stimio offers a portfolio of connected devices for the railway industry, covering a wide range of use cases to help operators face their many challenges. In addition to monitoring sand levels in silos, Stimio's solutions are designed to monitor:
• Monitoring and prediction of catenary tensioning;
• Remote surveillance of rail temperature;
• Pantograph health and lifting function.
Stimio's offering also includes connected devices for data collection inside rollings stocks (doors monitoring, fluids level, etc.).
You are an operator and face similar problems with your rolling stock (trains, metros or trams). Contact us !
Railnode
Railnode is Stimio's certified rail solution for collecting data and delivering them to Oxygen and business information systems.
Learn more →
---
Oxygen Asset Management

From device management to visualisation and prediction, Oxygen Asset Management unlocks data's potential and turn them into intelligent and actionable information.
Lean more →
---
Let's talk about your concerns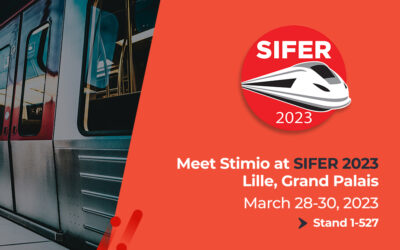 February, 6th 2023Stimio to exhibit at SIFER 2023We are exhbiting during the new edition of SIFER which will be held from 28 to 30 March 2023 in Lille, Grand Palais. Meet us on stand 1-527 to discuss your projects: assets real-time and remote condition monitoring,...